Back to news list
Ghostrunner Demo Available Now on Xbox One, PlayStation 4 and Nintendo Switch!
24.02.2021
Described as "an exhilarating display of acrobatic first-person platforming" by Eurogamer, "a masterpiece of a parkour action game" by IGN Japan and nominated for IGN's Best Action Game of 2020, Ghostrunner was the breakthrough hit of 2020, delivering a combination of one-hit close combat and fast-paced platforming in a cyberpunk setting.

Packed with more than 30 minutes of intense, challenging katana combat, the Ghostrunner Demo is now available to download on the Xbox One, PlayStation 4, and Nintendo Switch.

Make full use of your enhanced abilities. Slow down time, wall run, slice enemies in half, deflect bullets, teleport, and more as you navigate the violent and unforgiving Dharma Tower. If you're not running, you're dead. Ascend Dharma Tower, join the Resistance, defeat the tyrannical Keymaster, don't die.

Download the Ghostrunner Demo now

Save humanity from tyranny in style with the Winter Pack DLC featuring the Cold Snap Katana and Cold Blood Glove.
Available on Steam, Epic Store, GOG, Xbox One, PlayStation 4, and Nintendo Switch.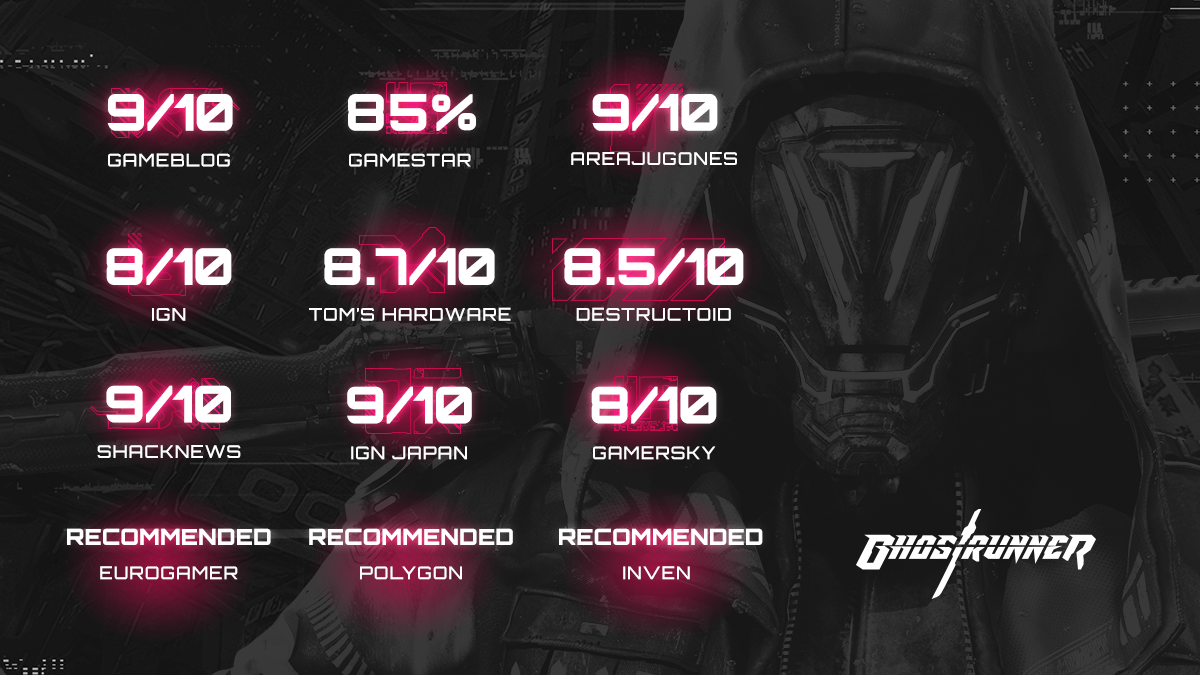 Join the ever-growing Ghostrunner community today on Discord, Twitter, Facebook, or Instagram and share your best run times at Speedrun.com.
With future updates planned all through 2021, be sure to stay connected by registering for the Ghostrunner Newsletter here.